Digital Strategy Development
What is a digital marketing strategy?
A comprehensive digital marketing strategy acts like a detailed 'road map' to provide guidance on the very specific actions & tactics that need to be taken to increase client acquisition and achieve business growth.
A strategy aligns your business objectives with your digital marketing push – to ensure positive business results. It also provides a detailed 'plan of attack' for the short, medium and long term along with tools to track performance and to measure the success of future marketing efforts.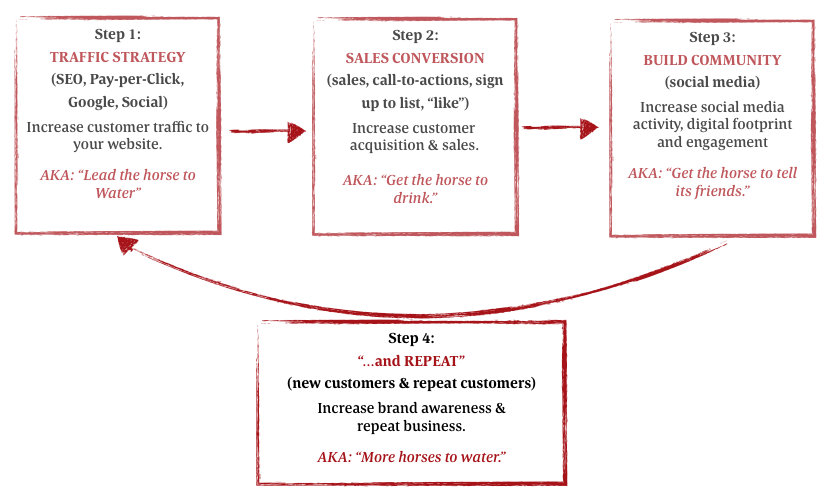 How does a digital marketing strategy help your business?
A digital marketing strategy helps you to:
boost sales conversions and increase customer engagement & acquisition
identify which online channels are best for conversion
bolster your current online sales & engagement funnel
analyse & deconstruct your competitor's digital marketing strategy
create KPI's, outline tactics, identify actions & build schedules
outline the next 3 months, 6 months, 12 months, 2 years
grow your digital footprint & build online brand awareness
The end result is an overarching strategy that is focused, aligned and consistently communicated across your website and any other online (or offline) marketing efforts such as:
A customised strategy unique to your business.
Because every business is unique we won't try to sell you a "cookie-cutter" package. Instead, our approach is a highly collaborative and consultative one.
The process involves a highly collaborative approach wherein we'll work directly with you and/or your stakeholders to fully comprehend both your marketing and business objectives, and also the needs and behaviour of your target audience/s.
We will also directly oversee the implementation of any required changes to your current website and/or existing social media channels upon your approval.
The strategy marketing strategy development process includes:
Briefing: In-depth, extensive Briefing Session to clarify your overarching business objectives and clarifying your marketing goals.
Strategy Development: what needs to happen and how it needs to happen: an extensive and detailed analysis of the performance of all current digital marketing channels, recommendations for new channels, specific tasks and tactics for increasing customer acquisition and sales conversion.
The Marketing Plan: (scheduling of specific tasks) – when tasks need to happen.
Implementation: working with your current resources and/or additional resources to implement the Strategy, includes creating of performance tracking and monitoring systems.
Ongoing Monitoring & Performance Tracking: we can train you in tracking your own performance or create a customised monthly package to do it for you. The choice is yours.
Your Strategy will then be delivered to you in a live workshop session in the following formats:
Detailed Strategy Report Documentation – in PDF and printed report format.
PowerPoint Presentation – delivered as live presentation at our office or yours.
Ample question time and any additional research and/or follow up actions are included.
Ready to build a killer online business strategy?
Contact our San Francisco office on +1 415 900 9053 or send us an email.