Case Study: Search Engine Optimisation (SEO)
The Mythical "7-Entry Page One Ranking" is Real!
Client: Inspireworks Corporate Video Production, Melbourne, Australia.
URL: www.inspireworks.com.au
Project: SEO / Usability / Website Navigation Menu Redesign
"Are you sleeping with Mr Google or something?! We had no idea that this would happen so fast or we'd get so many entries on Page One. You really know your stuff."
– Jonathan Zoch, Inspireworks Corporate Video, Melbourne. Read more testimonials here.
Google Page One Domination
SEO can be really exciting because sometimes things can happen really fast and really dramatically! For the last few months there have been rumours in the SEO community about "7-entry Google Page One rankings". In short, what this means is that your website can have up to 7 entries on Page One for a top keyword – amounting to Page One domination for your niche! Happily, at Fat Cake, we've proved that the rumour is true!
The following case study outlines not only how quickly and dramatically improvements in Google rankings can happen, but how sometimes you can get seven (7) results on Page One of Google. We also outline how product-specific optimised landing pages work to drive highly-targeted traffic to your products and services.
(And just in case you're wondering.. We're definitely NOT sleeping with Mr Google!)
Background and Business Objectives
Inspireworks had an old and tired website that wasn't ranking well in Google for its top keywords. The site had no cohesive search strategy aligned to its most important services, it was confusing to navigate, and a confusing navigation menu. But the main drawback was that the site did not effectively align with Inspireworks' overall business strategy.
The initial steps of this project were the most important of all: engage Inspireworks in a workshop to determine how their business strategy was going to align with their search strategy. Or, in other words, which keywords were going to be their money keywords? What were the "killer keywords" that would convert into targeted traffic and real-world business growth?
Strategy, Actions, Solutions.
After our strategy workshop, it was agreed that the Inspireworks website needed to push 3 main revenue-generating service areas:
Corporate video production
Employee video production (induction, orientation, training, seminars etc.)
Marketing & promotional video production
Actions taken to optimise included: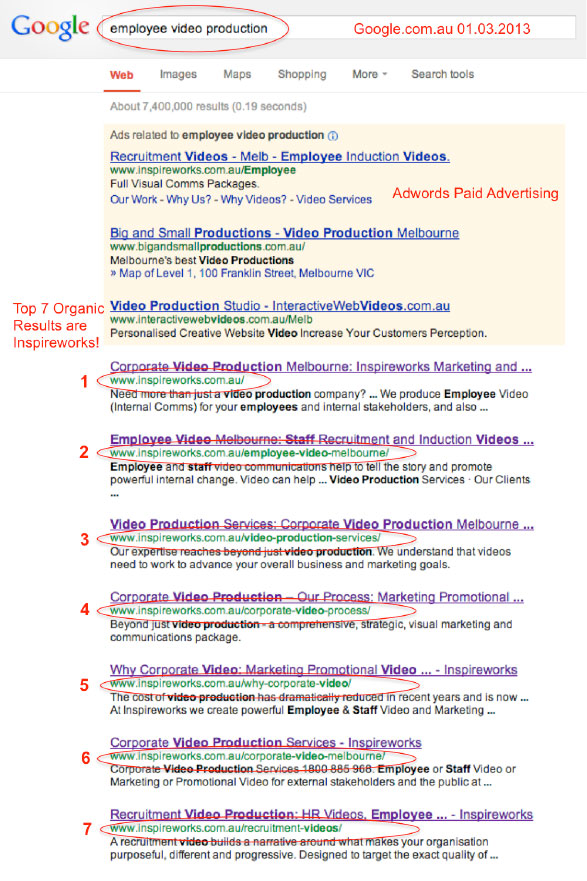 Keyword research with recommendations on top traffic, targeted "killer keywords"
Navigation menu optimisation for SEO, user experience and conversion optimisation
Creation of new original optimised content site-wide
Editing of some existing content for SEO
Deletion of "dead" or non-relevant content
Integration of new conversion optimisation tactics
Key Results – 10 days post-optimisation.
The refreshed site now had targeted SEO, audience-driven conversion optimisation, and a more refined user experience to funnel potential clients to product-landing pages that really communicated the selling benefits of their corporate video production services.
Top of Google Page One rankings achieved within 10 days of launch of optimised website: 
employee video production
marketing video production
promotional video production
recruitment video production
induction video production
Want to know more about this case study?
Please contact our San Francisco office on +1 415-900-9053 or email info@fatcake.com.